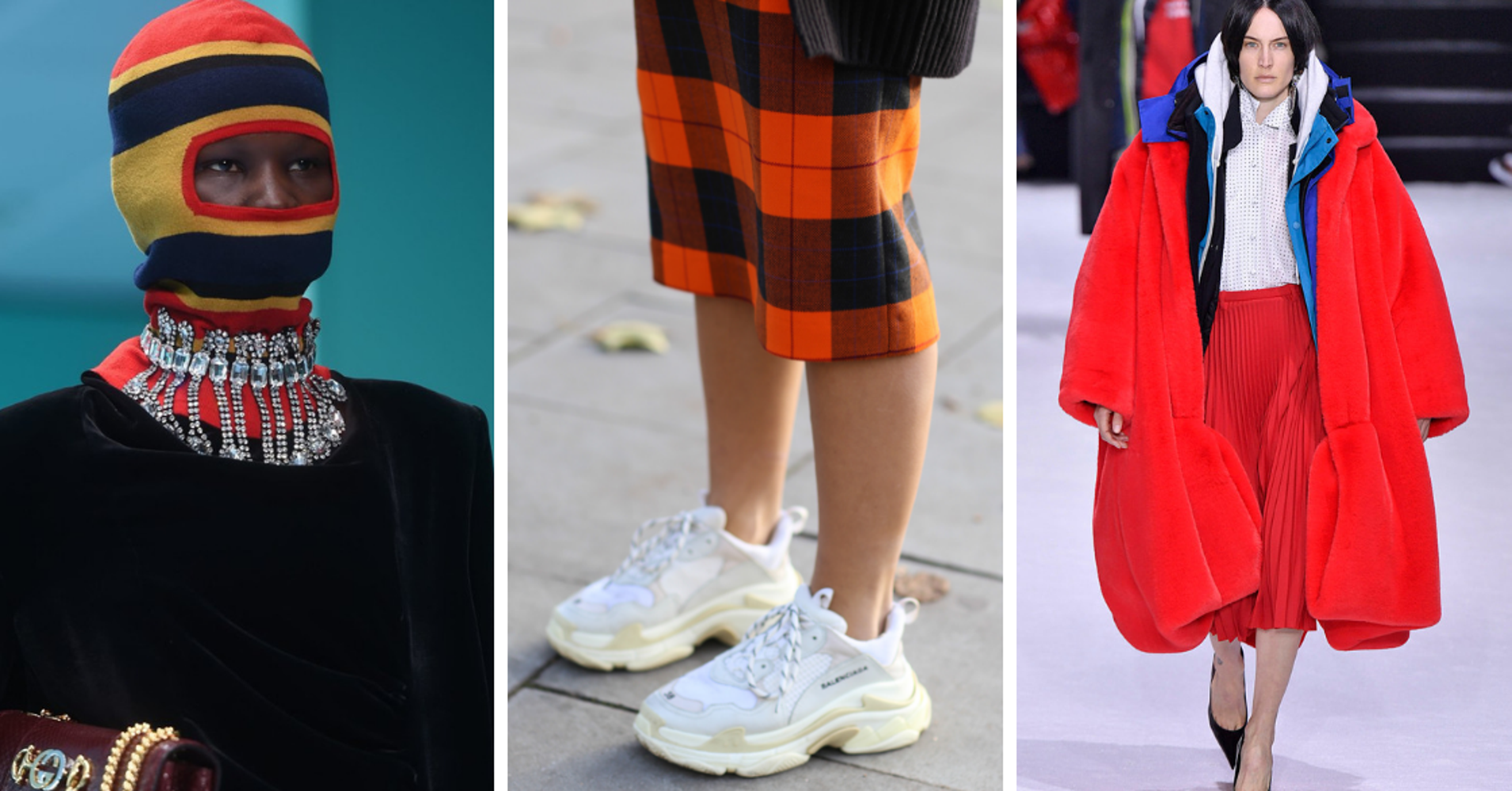 With the end of the year fast approaching, we're taking a moment to look back at some of the most memorable fashion trends that emerged (or showed no signs of slowing down) in 2018.
Some trends, such as heavy '80s influences, seemed pretty standard. Fashion borrows from other decades on a regular basis, and as we're always reminded, trends almost always come and go and come back again. Others, like balaclavas, were a little more out of the ordinary, but memorable just the same.
To find out which trends really stuck with us this year, keep reading.
Ugly sneakers ― sometimes also referred to as "dad sneakers" ― were everywhere this year.
The trend wasn't exactly new, but it definitely showed no signs of slowing down. Celebrities and influencers couldn't get enough of their ugly sneakers (that much was clear just by scrolling through Instagram). Among the most Insta-friendly pairs were those by high-end labels like Balenciaga and Louis Vuitton, but we also saw plenty of Nikes and Filas.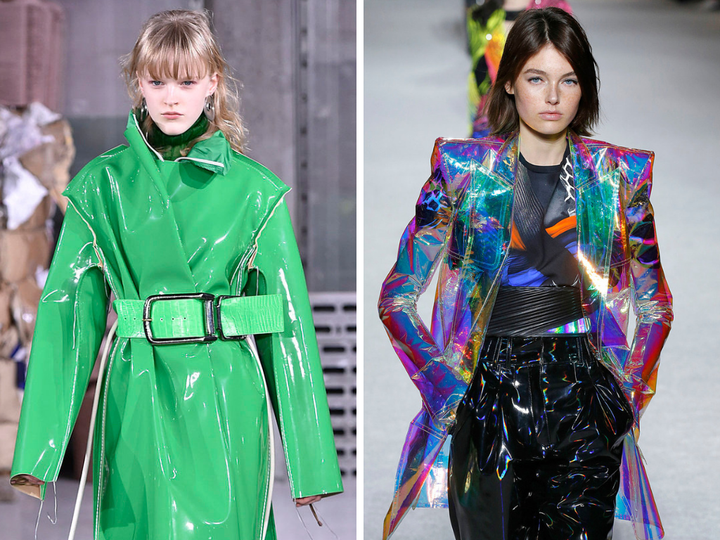 Plastic, in the forms of vinyl and PVC (a type of vinyl), also made waves in fashion this year.
This trend, which initially became popular in fashion during the 1960s, showed up on a number of runways during the fall 2018 season (Balenciaga, Christopher Kane, Marni) as well as spring 2019.
We think it's pretty safe to say we haven't seen the last of it.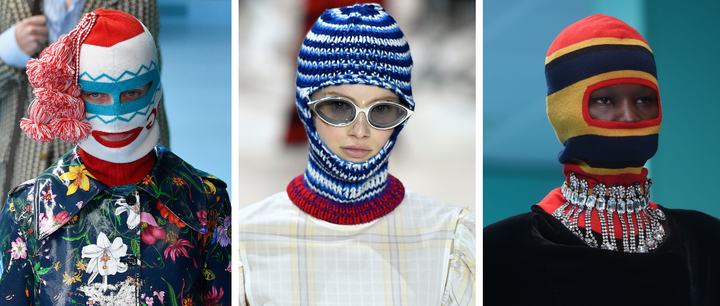 Balaclavas were perhaps one of the stranger trends to emerge for the fall/winter 2018 season, and if we're being totally honest, we kind of love them.
The close-fitting caps ― essentially just ski masks ― cover the whole head and neck, save for the eyes, mouth and sometimes, nose. Various versions of the headgear made an appearance on the fall 2018 runways. There were the heathered knit versions at Calvin Klein, the face masks at Gucci and suede pageboy hat-balaclava hybrids at Christian Dior.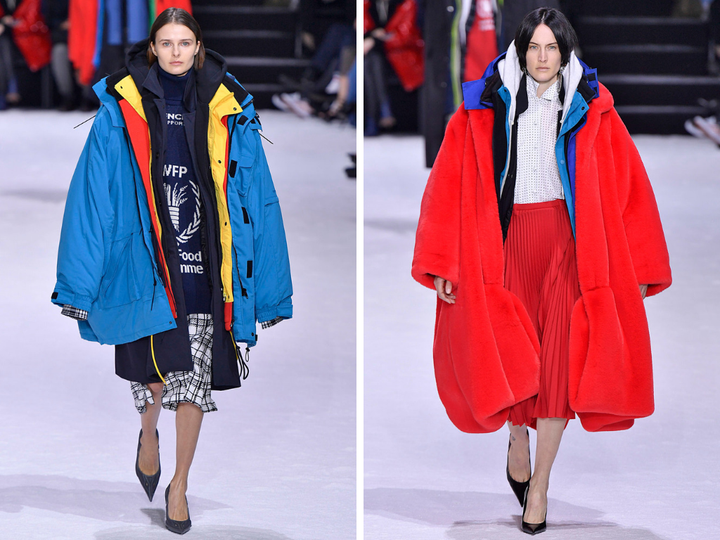 Coats that were oversized ― sometimes, comically so ― were literally one of the biggest trends to emerge for fall 2018.
The buzziest version, hands down, came from Balenciaga. Designer Demna Gvasalia sent his models down the catwalk in ridiculously big coats made of a bunch of different layers. They launched a ton of hilarious memes, including a spot-on comparison to one particular Joey Tribbiani outfit from "Friends."
If nothing else, it was definitely one of the cold season's coziest trends.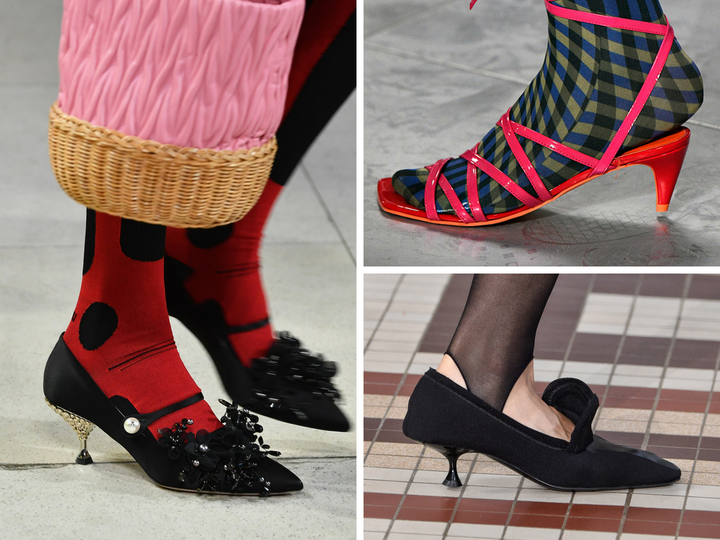 Kitten heels made a comeback for the 2018 summer season, and if you hopped on this trend, your feet are probably thanking you.
Some people have debated the actual stylish-ness of kitten heels, but one thing's for certain: They've stood the test of time. We saw models strut their stuff in an array of kitten heels on the fall 2018 runways, including at Givenchy, Christopher Kane, Miu Miu and more.
These low heels ― typically under 2 inches ― are also so much more manageable to walk in than sky-high heels, especially for long periods of time.
"From a biomechanical perspective, when you're walking [in kitten heels] it's not as stressful on the body," New York-based podiatric physician and surgeon Dr. Rebecca Pruthi told HuffPost earlier this year. "It's definitely a great alternative to high heels."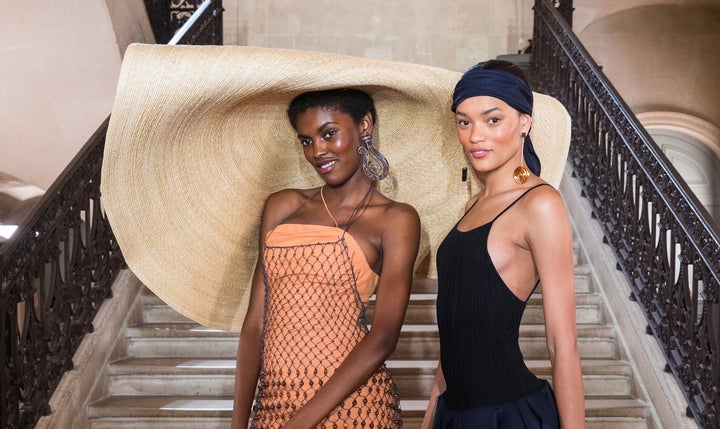 Hats, like coats, got a supersized update this summer. And we're talking REALLY supersized.
The most notable version came from fashion label Jacquemus; the brand's giant $697 La Bomba hat, worn by the likes of model Emily Ratajkowski and it-girl Emma Rosenzweig, which brought hats to a whole new XXL level. Vogue even credited the brand with sparking the trend.
Massive hats also made appearances at Vivienne Westwood, Missoni and Valentin Yudashkin.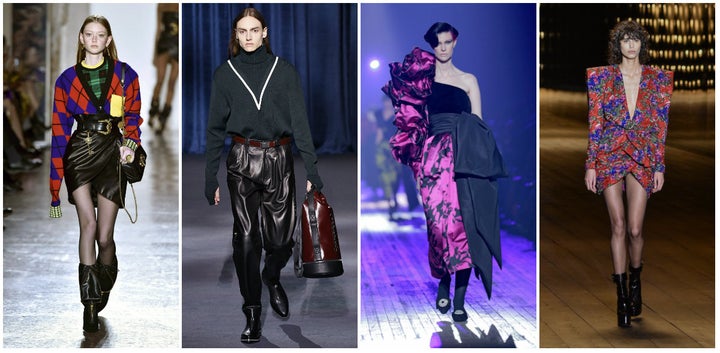 Plenty of fall 2018 runways were all about the 1980s. That means we saw a ton of ruffles, big shoulders, high-waisted bottoms and cinched waists.
One of the more obvious nods to the decade of hair bands and new wave came from Marc Jacobs, who showed a fall 2018 collection that included oversized coats in bright blue and pink hues and a number of taffeta dresses that would have looked perfectly at home at an '80s prom.
8. Over-The-Top Ruffles And Frills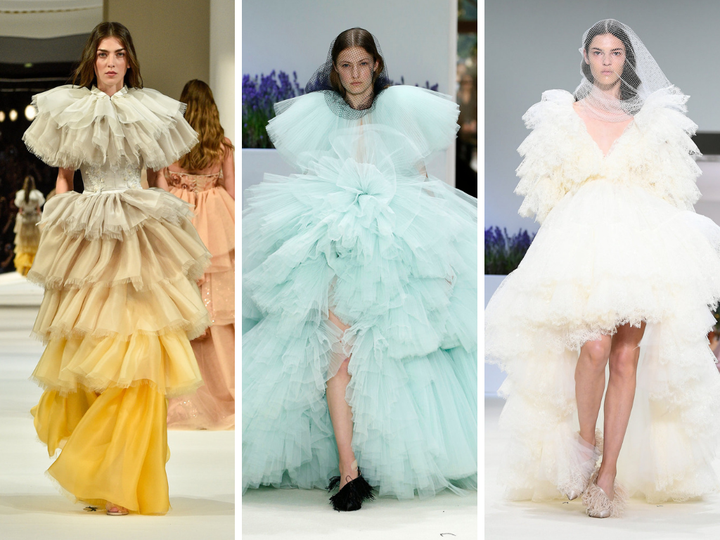 Oversized was clearly a major theme on designer mood boards for 2018. Aside from the massive coats and big hats, we also saw a ton of looks with extra-large and over-the-top frills and ruffles. Some of our favorite ensembles came from Giambattista Valli's couture show, which saw models walk the runway in an array of ultra-bright ruffled tulle gowns.
The trend also appeared on a number of spring 2019 runways, including at Marc Jacobs and Rodarte. Like plastic fashions, it's not going anywhere soon.
This article was originally published at: http://worldnewsweb.space/2018/12/the-8-most-unforgettable-fashion-trends-from-2018/